MIAMI – Dwyane Wade's making dreams come true. However this dream came true off the court.
Dwyane Wade accepted a You-Tube prom invitation from a local high-school teen while the Miami Heat wait for the eventual winner of the New York Knicks/ Indiana Pacer's series.
According to a local Miami T.V. network, Nicole Muxo, made an earlier video request for her homecoming dance earlier this year, but Wade was a little busy at the time — embarking on a 27-game winning streak.
Perhaps, Dwyane Wade needed extra treatment on his sore right knee (I wonder what Gabby had to say about this?).
While Wade did forget to wear his fashion statement capri suit (I'm sooooo disappointed) he still came dressed for the occasion.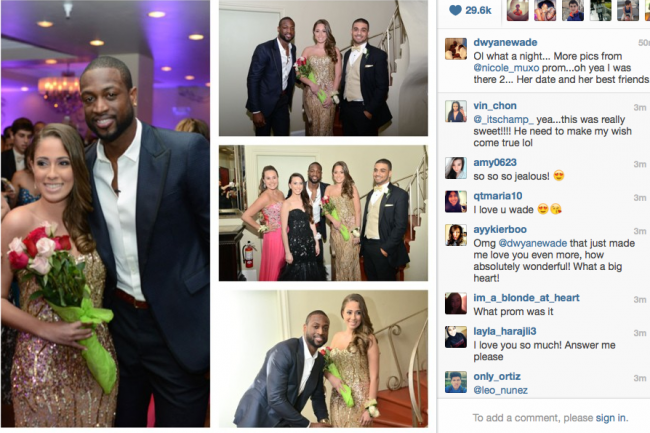 via Instagram
Switching to basketball, LeBron James is holding down the ship right now, but I'm hoping Wade will be ready for the Eastern Conference Finals. Yes, I still believe the Miami Heat are the favorites with or without Wade, however he has been in the news quite a bit this postseason — and unfortunately it hasn't been due to his great play (Wade's averaging a career low 13.0 points per game).
I'm predicting D-Wade will return to similar fashion next series, now that his knee has loosened up a little after a fun night of dancing and partying. The Miami Heat are poised to win another championship this year and a fully healthy squad will certainly guarantee we'll be the last team standing in June.
Eric N. Ellington covers the Miami Heat for Fansided.com. You can follow him @EricNEllington
Tags: Dwyane Wade Miami Heat