Miami Heat: Meyers Leonard showing what he can bring to the team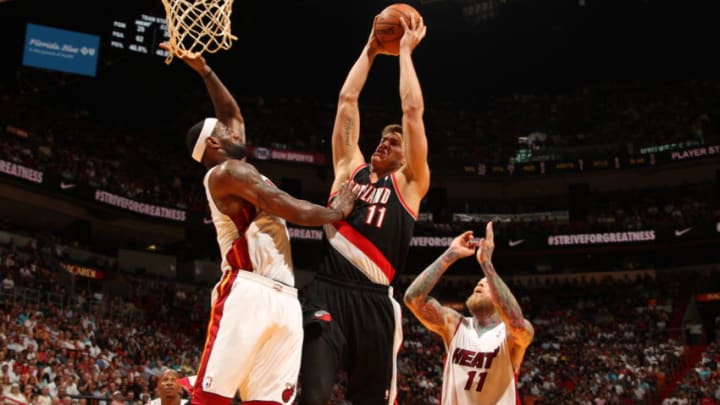 Meyers Leonard #11 of the Portland Trail Blazers dunks against the Miami Heat (Photo by Issac Baldizon/NBAE via Getty Images) /
The Miami Heat acquired Meyers Leonard from the Trail Blazers as apart of the Jimmy Butler S&T agreement. Here is an example of what he brings to the Heat.
The Miami Heat were in desperation mode it seemed. They were on the precipice of a deal that would bring Jimmy Butler to the team, but the Dallas Mavericks decided they wanted to pull out of the deal. This sent Miami Heat faithful, twitter, and the rest of the social media world into a frenzy.
After a few more days of deliberation and patented Pat Riley magic though, the deal was finally consummated. At its completion, it saw the Miami Heat acquire two appreciating assets in Jimmy Butler and Meyers Leonard while exodusing an asset that had long begun its dive of depreciation in a center who is not to be named.
When the news was announced, many were excited about finally landing their star, but either didn't pay attention due to the excitement of acquiring Butler or didn't know how to feel about also acquiring Leonard from the Trail Blazers as well. Well, they should feel pretty good.
We don't need to rehash it for the umpteenth time, but Leonard was downright nasty in last year's playoff series against the Golden State Warriors. He was a big game waiting to happen in the last two games of that series.
He hit big shots. He made key assists. He even played tough defense and hit the boards like a man possessed.
These are all the things he should be bringing with him to South Beach, or those are all the things that the Miami Heat will be looking to pull out of him on a more consistent basis at least. His performance not only showcased his varying abilities but highlighted and blueprinted how to possibly best use the sharpshooting seven-footer out of Illinois.
One thing that Leonard will certainly bring with him to Miami is his size and shooting. There is this classic saying in the basketball community that has a few variations, one is you can't teach size and another that is closely related is that you can't teach seven foot. What these sayings mean is that although skill can be acquired, being learned and taught, only the most high(whom or whatever that is to you) can bless you with certain physical traits such as being a gargantuan of a human.
https://twitter.com/MiamiHEAT/status/1166806926644129795
On top of being a mammoth of a man, Leonard can really stroke it. He not only presents the Heat with another viable paint presence with his size and length, but he presents them with a deadly marksman when he gets going.
The Miami Heat will find a way to get the most out of Leonard because that's just what this organization does. Leonard should fit in nicely as another option at either of the big positions, offering massive versatility to the team and among the group. This season should definitely be an interesting one with his and Jimmy Buckets' acquisition and we can't wait to see it.